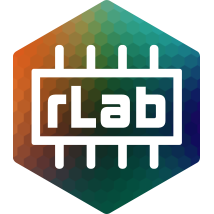 rLAB – Reading's Hackspace / Makerspace
for makers, menders, re-purposers, creators, sharers and teachers – come join our community workshop, with amazing equipment and members to match
Twitter / Facebook / Google Group
rLAB Wiki / rLAB Merch / rLAB Calendar

Membership
As a community run workshop, we are run, maintained, funded and governed by our members. We have no paid staff, everyone volunteers to keep the space clean, tidy and the tools operational. Members are also responsible for holding inductions, running workshops and sharing their knowledge / expertise.
Membership is only open to those 18 years old and above, though parents can bring their children if they are adequately supervised. We ask for a regular monthly donation of £25 which covers our rent, rates, bills and allows us to maintain and upgrade the space and the tools it holds. If you have a lower income we can be flexible with this donation, just ask.
Becoming a member
Before you can become a member you will need to visit and take a tour, and if you are interested you can sign-up, to enable us to match your availability and interests please request a tour.
Request a tour
or sign-up session
You will need to provide contact details and bring a form of Photo ID (Passport, driving license, identity card, student ID etc). There is also an Induction to the workshop which covers the main operational and safety issues. The process can take 1 to 1½ hours depending on numbers.
On completion you will be issued a smart card which gives you 24/7 access as long as you keep up monthly donations, otherwise your card will become inactive
There are separate inductions available for the larger / more dangerous tools, these can be arranged using the Google Group once you are a member.
rLab – Unit C1
Weldale Street
READING
RG1 7BX

You can find out more about us an what we are up to on
Twitter / Facebook / Google Group
rLAB Wiki / rLAB Merch / rLAB Calendar

rLAB / Reading Hackspace are trading names of Reading Maker Space Limited, a non-profit company limited by guarantee, registered number 07628386